In Ferguson, the Struggle Continues

Demonstrators converge on Ferguson Police Dept. headquarters.
by J.A. Salaam
Special to the NNPA from The Final Call
FERGUSON, Mo. (FinalCall.com) – Nearly seven months since the death of 18-year-old Michael Brown Jr., the small St. Louis suburb of Ferguson still wrestles with many unanswered questions. Is the movement over? Was the protesting across the country all in vain? What's on the horizon for the little town of approximately 22,000 residents, 67 percent of whom are Black? And do Black lives really matter?
What is apparent is emotions and tensions still run high. Recently, over 250 protesters filled a meeting at the aldermanic chamber at St. Louis City Hall to voice concerns on a proposed independent police review board called the Civilian Oversight Board for the city.
The Jan. 28 meeting came to an abrupt close when Jeff Roorda, business manager and spokesperson for the St. Louis City Police union yelled at moderator, Alderman Terry Kennedy for failing to "restore order" when protesters interrupted.
"Can we get some order in here?," Mr. Roorda yelled at the alderman to which Mr. Kennedy responded, "First off you don't tell me about my function."
Mr. Roorda then rushed towards Mr. Kennedy when he encountered Cachet Currie, a Black woman, in the aisle leaving the meeting. Mr. Roorda grabbed and pushed the woman down to get her out the way resulting in a scratch on her forehead. Ms. Currie is reportedly filing charges.  Mr. Roorda was observed wearing an "I am Darren Wilson" wrist band to the meeting.
The proposed board would have the authority to investigate allegations of police misconduct, research and assess police policies, operations and procedures.
It would inspect complaints against members of the police department involving excessive use of force, abuse of authority, sexual harassment and assault, discourtesy, racial profiling, or use of offensive language, including, but not limited to, slurs relating to race, ethnicity, religion, gender, sexual orientation, gender identity, immigrant status and disability.
St. Louis tourism is taking a blow as protesters, college students, clergy and legal activists are disrupting events in the St. Louis region. On Jan. 31 about 30 anti-racism activists walked through the St. Louis RV Vacation & Travel Show with "Face Racism" and "Are you comfortable" drawn on their faces. Some of the protesters held signs that read "White Only" and "No Coloreds."
Pushing and pressing forward
Reports are surfacing that the federal investigation of former Ferguson police officer Darren Wilson will not result in charges he violated Michael Brown Jr.'s civil rights when he shot and killed the teen.
The Justice Department report has not been completed, and Attorney General Eric Holder will make the final decision whether to press federal civil rights charges against Mr. Wilson.  But activists won't quit pressing for change, despite the outcome in Ferguson and other cities. Community groups and individuals are still organizing and demanding accountability from political and law enforcement leadership. Many meetings and forums took place during the weekend of the Dr. Martin Luther King Jr. Holiday.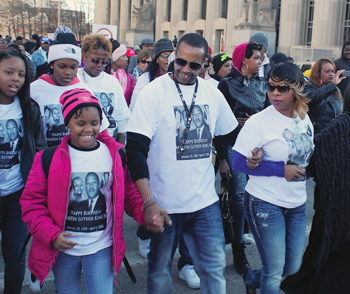 "The movement is not over, we are not going to settle with the way things have always been. We still have more to do and we didn't do a good job. Because nothing has changed, we haven't gotten any of these police officers arrested for misusing their authority; we haven't gotten any policies changed, the system of preying on poor people are still in effect, police officers are still allowed to do what the hell they want in the community and nothing is done anything yet," said Dauud Amun Royal, co-chair of the St. Louis-based Center of Hope and Peace.
"So for people to be slapping each other on the back and giving awards as if something meaningful has been done is an insult to the brother who got killed. That's why we can go on T.V. and jump up and down like we've done since the 60s. And it means nothing because we don't follow through," continued Mr. Royal who was attending an event honoring Dr. Martin Luther King Jr.  There is much more work to do and "we are not finished," he said.
Participants from across the country gathered for open dialogue with law enforcement representatives, politicians and protestors from various cities. Ferguson 1000 Jobs co-founders St. Louis businessman Dave Spence and economist and investment advisor Dr. Lance McCarthy, Ferguson Police Chief Thomas Jackson, Ferguson Mayor James Knowles III and Paul Muhammad founder of the St. Louis Peace Keepers participated.The Charles Hamilton Houston Institute for Racial Justice hosted an event at Harvard Law School Jan. 17 to discuss racial profiling of Blacks and injustices in the legal system and formulate solutions.
The event was filled with moments of anger and tension toward Ferguson officials.
"I cannot quit or resign as chief in the middle of this, because I must have a chance to fix what's wrong, that's my responsibility and no one else can do it but me," said Chief Jackson to The Final Call when asked about comments during the forum calling for him to resign.
The movement is far from over and diversity training is one of the keys to moving forward but it will be a challenge, Mr. Muhammad told The Final Call.  "But if the police departments are willing to allow those of us who are out in the community with the people, we can become the bridge between the police and the community. This would at least start the healing process and build a level of trust between the two," he added. Police must first engage and get involved in the community and build relationships with the people to serve and protect, said Mr. Muhammad. He also recommended police become more actively engaged in schools, community centers and get to know people on a more human level to develop trust.
On Jan. 18 Missouri Representative William Lacy Clay Jr. and members of the Congressional Black Caucus were at the Wellspring United Methodist Church in Ferguson to speak with the community.
"We need to be outraged when local law enforcement and the justice system repeatedly allow young, unarmed Black men to encounter police and then wind up dead with no consequences," said Rep. Clay.
Dr. Leah Gunning Francis, an associate dean at the Eden Theological Seminary in St. Louis, insisted that society needed to regard the lives of Black men to be as important as those of White men.
We have to restore the humanity of young Black men, she said.
"We are going nowhere. We have several actions in place to take us from the selfishness thought process and bring it back to the village mindset. We are focusing on awareness, the community, education and the government. We have plans to raise the level of thinking first of the people then we can help sustain the community," said Jeremy Rhone of the community group Mighty 13 of Ferguson.
Before the non-indictment of Mr. Wilson many groups had hopes of justice to counteract issues that run deep in the city but the unrest increased locally and nationally, said Mr. Spence. His group, Ferguson 1000 Jobs unveiled a comprehensive plan to address the issues.
"We have been convening meetings with leaders for the last four months and understand there is apathy. People are tired of hearing lip service, hence we developed our views that were delivered as such from a wide variety of leaders in the community," said Mr. Spence.
Faith-based, corporate, community and youth leaders gave their opinions on what it would take to help get Ferguson back on track. The discussions have resulted in what's been dubbed "Wish List for Ferguson." It includes housing development, youth education and scholarships.
Mr. Spence believes the "Wish List" will prompt more dialogue among all St. Louis region stakeholders, leading to action.
Ferguson 1000 Jobs also aims to bring together some of the area's largest employers to give St. Louis county residents job training, business development, and employment opportunities.
"We are moving towards the poor people's campaign. You are not going to see us just running out in the street to get tear gassed for freedom. We have to make everyday life a protest. We've had demands for six months and not one of our demands were met. None of them!" said youth activist Tory Russell of Hands Up United. He criticized President Barack Obama for not coming to Ferguson like former President Bush went to New Orleans after Hurricane Katrina.
"Here's the same man that wanted us to vote but he couldn't come see the people when they were hurting the most. Then the worst was that we thought there was enough to get a civil rights charge. Not just local but nationally, there was cases that were clearly violations but that didn't matter. That hurts when you have Black officials in high positions of politics but they can't do nothing for their people," said Mr. Russell.
"We are begging an uncivil system for civil rights and an inhuman system for human rights and that's not going to happen. They cannot grant you what you want. They are trying to act like this movement never existed like a 199 cities didn't rise up.'
"In the 2016 election we will make the question does Black Lives Matter as part of the ballot and they will have to answer that question," vowed Mr. Russell.
Barbara Lee Applauds 2nd Round of Workforce Funding from COVID Community Care Act Legislation
Congresswoman Barbara Lee (CA-13) applauded the announcement that the U.S. Department of Health and Human Services (HHS) and the Health Resources and Services Administration (HRSA) will be awarding $121 million to 127 award recipients of the Local Community-Based Workforce to Increase COVID-19 Vaccine Access Program.
Congresswoman Barbara Lee (CA-13) applauded the announcement that the U.S. Department of Health and Human Services (HHS) and the Health Resources and Services Administration (HRSA) will be awarding $121 million to 127 award recipients of the Local Community-Based Workforce to Increase COVID-19 Vaccine Access Program.
Announced on July 27, these awards are funded with resources from provisions within the American Rescue Plan Act that Lee led through her COVID Community Care Act.  This reflects the second of two funding opportunities announced in May 2021 for community-based efforts to hire and mobilize community outreach workers, community health workers, social support specialists, and others to increase vaccine access for the hardest-hit and highest-risk communities through high-touch, on-the-ground outreach to educate and assist individuals in getting the information they need about vaccinations.
The first round of funding, which was administered in June, included an $11 million award to the Public Health Institute in Oakland and a $9.5 million award to the Association of Asian/Pacific Community Health Organizations in Berkeley. Three Oakland based organizations, the Public Health Institute, Women Organized to Respond to Life-Threatening Diseases, and Safe Passages, are recipients of this round of funding, bringing the total funding brought to organizations in CA-13 to nearly $23 million.
"We are facing another inflection point in this pandemic. We must make meaningful investments in getting everyone vaccinated—especially communities of color and medically underserved communities," said Lee.  "I worked hard in Congress to invest in trusted messengers at the community level to build confidence in vaccines and COVID-19 prevention efforts. This is a much-needed continuation of that work, and we'll see over a million dollars of investment on the ground in our own East Bay community.
"Our Tri-Caucus – the Congressional Black Caucus, Congressional Hispanic Caucus, Congressional Asian Pacific American Caucus, and Native American member Congresswoman Sharice Davids, House Speaker Nancy Pelosi, Energy and Commerce Committee Chair Frank Pallone, Education and Labor Committee Chair Bobby Scott and Appropriations Committee Chair Rosa DeLauro deserve credit for their hard work and support in getting this across the finish line in the American Rescue Plan.  We can see that the work of House Democrats is making a real-life impact on the ground for communities.  This is an important step, but we must continue our work to dismantle systemic racism in our public health system and ensure that vaccines are equitably and adequately distributed."
The purpose of this program is to establish, expand, and sustain a public health workforce to prevent, prepare for, and respond to COVID-19.  This includes mobilizing community outreach workers, which includes community health workers, patient navigators, and social support specialists to educate and assist individuals in accessing and receiving COVID-19 vaccinations.  
This includes activities such as conducting face-to-face outreach and reaching out directly to community members to educate them about the vaccine, assisting individuals in making a vaccine appointment, providing resources to find convenient vaccine locations, assisting individuals with transportation or other needs to get to a vaccination site.
Congratulations to Michelle Mack
Nominated for Teacher of the Year
Congratulations to Michelle Mack, currently a pre-K lead teacher in Atlanta, Ga., who was nominated for Teacher of the Year. A 2008 graduate of St. Elizabeth's High School who earned a degree in child psychology from San Francisco State University in 2012, Mack received her master's from Clark University in 2015.
Mack was recognized by the Easter Seals of North Georgia (ESNG) for "serving five consistent years teaching children and helping families with the same company" and awarded the ESNG-Guice Center Award for Individual Excellence.
Whitewashing History and Suppressing Voters Go Hand in Hand 
There's been a lot of news about the Democratic legislators in Texas who fled the state to prevent Republicans from pushing through sweeping new voter suppression laws. Gov. Greg Abbott has threatened to have them arrested to force them to attend a special session of the state Legislature.
There's been a lot of news about the Democratic legislators in Texas who fled the state to prevent Republicans from pushing through sweeping new voter suppression laws. Gov. Greg Abbott has threatened to have them arrested to force them to attend a special session of the state Legislature.
Now it turns out that voter suppression is not the only "special" project Abbott has in mind. He and his fellow Republicans are pushing a far-reaching "memory law" that would limit teaching about racism and civil rights.
Abbott already signed a bill last month restricting how racism can be taught in Texas schools. But he and other Republicans in the state don't think it went far enough. The Republican-dominated state-Senate has voted to strip a requirement that white supremacy be taught as morally wrong. Also on the chopping block: requirements that students learn about civil rights activists Frederick Douglass, Susan B. Anthony, Martin Luther King Jr., Cesar Chavez and Dolores Huerta.
It's not just Texas. Just as Republicans are pushing a wave of voter registration laws around the country, they are also pushing laws to restrict teaching about racism in our history, culture, and institutions. CNN's Julian Zelizer recently noted that such laws downplay injustices in our history and lead to teaching "propaganda rather than history."
Here's a good example:  Texas Lt. Gov. Dan Patrick said the new legislation is meant to keep students from being "indoctrinated" by the "ridiculous leftist narrative that America and our Constitution are rooted in racism." If Patrick really believes it is a "ridiculous" idea that racism was embedded in our Constitution from the start, he has already put on his own ideological blinders. And he wants to force them onto teachers and students.
Some of these state memory laws specifically ban teaching that causes "discomfort, guilt, anguish or any other form of psychological distress on account of the individual's race or sex." As educators have noted, that's a recipe for erasing and whitewashing history.
"Teachers in high schools cannot exclude the possibility that the history of slavery, lynchings and voter suppression will make some non-Black students uncomfortable," history professor Timothy Snyder wrote in the New York Times Magazine. Those laws give power to white students and parents to censor honest teaching of history. "It is not exactly unusual for white people in America to express the view that they are being treated unfairly; now such an opinion could bring history classes to a halt."
Snyder also explained how new state "memory laws" are connected to voter suppression. "In most cases, the new American memory laws have been passed by state legislatures that, in the same session, have passed laws designed to make voting more difficult," he wrote. "The memory management enables the voter suppression."
"The history of denying Black people the vote is shameful," he explained. "This means that it is less likely to be taught where teachers are mandated to protect young people from feeling shame. The history of denying Black people the vote involves law and society. This means that it is less likely to be taught where teachers are mandated to tell students that racism is only personal prejudice."
As I wrote in The Nation, far-right attempts to suppress honest teaching about racism is meant to "convince a segment of white voters that they should fear and fight our emerging multiracial and multiethnic democratic society" and to "help far-right politicians take and hold power, no matter the cost to our democracy."
That's also what voter suppression bills are designed to do. We cannot tolerate either of these assaults on democracy.