#CHIRAQ: More Than Just a Nickname, a Shameful and Tragic Reality for Many
A new movie, second term for mayor and summer approaching has all eyes on Chicago's politicians, police, people, and body count
by Ashahed M. Muhammad
Special to the NNPA from The Final Call
CHICAGO (FinalCall.com) – On Monday, May 18, Rahm Emanuel stood on stage at The Chicago Theatre, a landmark located on State Street in the famed Loop, to take the oath of office beginning his second term as mayor.
To all the pomp and circumstance—and with a heavy police presence throughout the entire area—the city's political elite gathered in the city's business center, to hear Mayor Emanuel's vision for the future. In striking contrast to that scene, during the previous weekend 49 people were shot in Chicago. The vast majority of them in what are considered high-crime areas on the city's South and West sides.
"Building a future requires us to focus on a difficult subject that is too often ignored during our civic conversation. It is ignored precisely because it is so hard to talk about," said Mayor Emanuel seeming to have been stung by criticism during the most recent election painting him as a snobbish mayor responsive only to the rich and powerful with business interests in the city. In fact, his vanquished opponent, Jesus "Chuy" Garcia described Emanuel as the mayor of "the big money guys" which struck a nerve with many voters.
"I want to use this moment to shine a spotlight on preventing another lost generation of our city's youth," Mayor Emanuel said. "We all know who they are, although it is easier sometimes and more convenient to ignore them. Many are born into poverty, many come from broken homes, many have been on their own from very early on, and as a result, many of them drop out of school and therefore are jobless."
He said many of these disconnected youth "lack the spark of hope" in their eyes and find lack of opportunity at every turn.
"The faces of these lost and unconnected young men and women are often invisible until we see them in a mugshot as a victim or the perpetrator of senseless violence. Their existence is avoided rather than confronted. They live in the shadows of our cities and in the recesses of our minds, but we must make them ever-present in our conversation. Too many of them become the victims of their circumstance," Mayor Emanuel said.
Nice sounding words, but many are asking what he is planning to really do to change those circumstances. Can the mayor responsible for the closure of dozens of public schools—mainly in neighborhoods populated by Blacks and Latinos—really be responsive to the needs of the  youth in areas where their support group is a street organization, and where praise from parents and teachers is almost non-existent?
Over the past few years, many have begun to refer to the city of Chicago as "Chiraq" comparing it to the war torn nation in the Persian Gulf.  Hip-Hop albums and documentaries dealing with crime in the city have used it in titles, and for many of the youth, it has become something of a badge of honor to describe the strength it takes to survive in areas that resemble war zones.
Many believe "Chiraq" is a shamefully dishonorable designation with only negative associations and impact. Chicago Alderman Will Burns has even attempted to block tax breaks for acclaimed filmmaker Spike Lee's company, 40 Acres and a Mule Filmworks, because an upcoming film he is shooting in Chicago has "Chiraq" as its working title.
Eric Wilkins is president of the Broken Winggz Foundation, an anti-violence support group for those who have been paralyzed by gunshots. Mr. Wilkins said there is the Chicago represented by the lights and tall buildings of downtown, then there is the Chicago made up of infamous areas with names like "Terror Town" and the "Wild Hundreds" that make up "Chiraq."
"That's exactly what it is. It is out here and ain't no use in trying to get around it, you can sugarcoat it all you want to. You got kids that can't cross the street! It's saddens me that this is what we've become but it didn't happen overnight," said Mr. Wilkins. "You got these kids that get guns like you get Jimmy John's (sandwiches), so if you never leave a four block radius and you never run out of bullets—what's the real plan? And that's the part they don't want told," Mr. Wilkins added.
Militarization & targeted surveillance
Illinois is one of the states, according to the Department of Defense, to have received several Mine Resistant Ambush Protected armored vehicles (MRAPs). Additionally, The American Civil Liberties Union has identified 52 agencies in 21 states—of which Illinois is one—that own stingray tracking devices. Stingrays are also known as "cell site simulators." The ACLU reports they "are invasive cell phone surveillance devices that mimic cell phone towers and send out signals to trick cell phones in the area into transmitting their locations and identifying information. When used to track a suspect's cell phone, they also gather information about the phones of countless bystanders who happen to be nearby."
It is believed this technology has been used in an overly broad manner in cities that have seen large protests, such as Ferguson, Missouri, Baltimore, Maryland, and New York, to keep track of protest organizers, eavesdrop on their plans and conduct warrantless surveillance on those using cell phones for voice or text communication in the targeted area. According to court records it was noted by the ACLU and the Electronic Frontier Foundation that stingray devices can also cause dropped cell phone calls, and disrupt other mobile devices that use the same cell network. The EFF called use of the technology tool an "unconstitutional, all you can eat data buffet."
Black sites & torture—in Chicago
After September 11, 2001, the United States government stripped civil liberties, changed laws and created others with the publicly stated goal of preventing another deadly terrorist attack. During the administration of George W. Bush, he and his powerfully influential vice-president Dick Cheney used the euphemism "enhanced interrogation techniques" to describe what most would refer to as torture.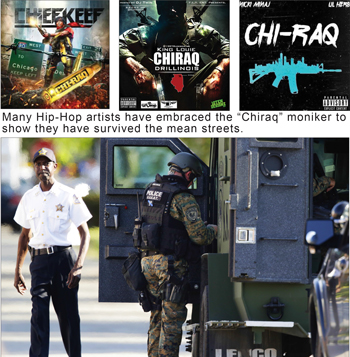 These techniques were used at many "Black sites" which are secret prisons located in various spots across the globe. Those determined to have knowledge of logistical information regarding the whereabouts of "high value targets" or potential terrorist operations became victims of "extraordinary rendition"—essentially kidnapping—and would be taken to these black sites and subjected to torture, in violation of international laws. A classified 2001 presidential directive granted these wide-ranging powers to the Central Intelligence Agency to detain individuals and take them to undisclosed locations.
If that is objectionable, then what about the recent revelation that the Chicago Police Department operated what activists say effectively could be considered a black site at a location known as Homan Square? After all, it is widely known that members of the Chicago Police Department have used "enhanced interrogation techniques" in the past. A $5.5 million reparations package, was approved unanimously by the Chicago City Council delivering a measure of justice for the approximately 120 Black men and women subjected to torture, which included electric shock to the genitals, mock executions, suffocation, and brutal beatings directed by the notorious former Chicago Police Commander Jon Burge and carried out by his henchmen from 1972 through 1991.
Forced confessions resulted in many young Black men in Chicago being implicated in crimes and sent to the penitentiary for crimes they did not commit. In the same manner, the argument rages as to whether torture of suspected terrorists yields "actionable intelligence" or simply results in an individual saying what his captors would like to hear in order to end the physical pain and mental anguish.
In many homicides in the city, the suspects are overwhelmingly Black, the victims are overwhelmingly Black, and their deaths are seen in areas considered fratricidal conflict zones, another uncanny similarity to the sectarian violence seen overseas.
What's in a name? Economics
Many reacted in disbelief when the Chicago Urban League reported in 2014 that 92 percent of Black males between the ages of 16 and 19 were jobless. So far, in the first few months of 2015, homicides are up from the same period the previous year, and now, as summer approaches, many fear the worse. It is almost considered an irreversible reality that Memorial Day weekend—the unofficial start of summer—would result in widespread shootings and war-zone like casualty numbers.
The predictions came true. Over the holiday weekend, 12 were shot and killed while at least 56 others were wounded. Many of them teens, the youngest victim, a 4 year-old girl.
It is into that atmosphere that acclaimed filmmaker Spike Lee faces criticism related to his upcoming project with the working title: "Chiraq." Mr. Lee faced so much criticism he was forced to hold a May 13 press conference to address concerns of community members and politicians that his film would paint an unflattering view of Chicago, focusing only on crime.
Interestingly, from April 30 to May 2, Chicago's Grant Park was transformed into "Draft Town." National Football League executives, players and football fans traveled here to participate in several days of festivities in the middle of downtown. Police were visible, but not overbearing, and the event was fun for all ages. In terms of economic impact, financial analysts estimate the three days of activities brought in over $200 million.
"This has nothing to do with Chicago losing tourism. This is not about Chicago losing business," said Mr. Lee. "Let's not put property and profit over human life," he added.
Chicago Bulls' All-Star center Joakim Noah who was honored with the National Basketball Association's 2015 J. Walter Kennedy Citizenship Award for his anti-violence work through the Noah's Arc Foundation expressed support for Mr. Lee's continued peace efforts by other organizations.
"I realize the title Chiraq could be perceived as a glorification of violence, but the reality of what is happening in the city of Chicago is not something any of us should hide from," Mr. Noah said in a statement.
Kublai Toure, executive director of Amer-I-Can's Illinois chapter, said what happened with Draft Town shows the different realities experienced by those that have the resources and have investments in the stock of the city and those who need resources and investments. Mr. Toure supports Mr. Lee's  efforts but said he has to bring in the peacekeepers and violence interrupters who work with the street organizations to make sure the full story is told.
"He's got to get some men in there that's actually been involved—and that's who I represent,"  said Mr. Toure.
Clearly, Gun manufacturers are profiting, security companies are profiting, and speedy gentrification efforts are seen in some of the most economically starved areas of Chicago, with real estate speculators making a killing, just  like private contractors in global conflict zones overseas became rich receiving no bid contracts to rebuild that which was destroyed. America's leading defense contractors such as Lockheed-Martin, Boeing, Northrop Grumman, Raytheon and BAE Systems are experiencing healthy profits resulting from seemingly endless wars.
Father Michael Pfleger, leader of the Faith Community at Saint Sabina stands with many mothers who have lost children to gun violence. As of May 25, there have been 883 shootings in 2015.
"We must face the reality of what's going on not just in Chicago but going on across America," said Father Pfleger. "Violence is real in America and we must face the reality. We must face the reality of guns in America where it's easier in so many neighborhoods to get a gun than a computer. We've got to deal with the reality of guns and the proliferation of guns in this country and those that are making money off of guns. We can't ignore this reality. This is proof of the reality" he added.
Although the subject is painful, Father Pfleger said there is value in dealing with it directly, and in his view, Spike Lee is the man for the job because of his proven track record in making thought-provoking films that courageously confront community issues.
"We're not painting a city, we're painting a reality that's difficult, and it's hard," said Father Pfleger. "A man who is an African-American director and one of the best directors in America, who did casting in an African-American community, who is hiring from the African-American community, dealing with African -American issues, sounds real right to me," he added.
Many of the mothers were critical of politicians who seem to care more about the city's image than the lives of Black youth. The mothers all told tragic stories filled with pain. Instead of going to graduations, many of them are going to cemeteries to visit the graves of their dead children.
"I hear a lot of energy being put toward (discussing) the movie but place that same energy behind our children and their lives," said Pamela Bosley, whose son Terrell was shot down in the parking lot of his church while unloading musical equipment. She leads an organization Purpose Over Pain which is a support group made up of parents who have lost children to violence. "No grounds are safe in Chicago. There are so many stories …I know you are saying 'this is not a war zone' but in my neighborhood, it sounds like a war zone to me!"
Brenda Mitchell also works with the organization. She had two sons. One son, Kelvin, actually fought in Operation Iraqi Freedom and survived three tours of duty. He is still alive, however, her other son Kenneth was killed in Chicago.
"For me, that is my reality. It is an irony that I would send a son to settle someone else's freedom and lose my other son in a free country—it's real," said Ms. Mitchell.
"When I made 'Doing the Right Thing' there were people who said this film would cause riots all across America. That Black people were going to run amuck.  People wrote that this film would stop David Dinkins from being the first African-American Mayor of New York City," said Mr. Lee. "They wrote a whole bunch of things, but those people ended up being on the wrong side of history and the same is going to happen here in Chicago. They are going to look stupid and be on the wrong side of history. We're here for peace, and we have to stop this," Mr. Lee said.
A New Mayor in 2022 Must Take Major Steps in Their First 100 Days
In 2022, the voters of Oakland will have an opportunity to elect the next mayor for our city.  The Mayor of Oakland is the head of the executive branch, in charge of implementing actions and laws that have been passed by Council and community.
In 2022, the voters of Oakland will have an opportunity to elect the next mayor for our city.  The Mayor of Oakland is the head of the executive branch, in charge of implementing actions and laws that have been passed by Council and community.
The mayor also selects and hires the city administrator, appoints members of key boards and commissions and sets the direction for the administrative branch of government, thus having a major impact on what action gets taken.
In recent years, the City Council has adopted numerous laws and funded positions and projects – many of which have not been implemented, such as providing gun tracing and cracking down on illegal guns, civilianizing special events, providing pro-active illegal dumping remediation, a public lands policy to prioritize affordable housing, direction to provide healthier alternative locations to respond to homelessness, and many more.
In order to ensure that we build a safer and healthier future for Oakland, it is vitally important to ensure that we elect leadership for the executive branch with the dedication and commitment to take the actions needed to fulfill the needs of our communities.  
With serious struggles facing our communities, it is vital that the next mayor take immediate action in their first hundred days – and so, I am undertaking to provide proposals regarding what the next mayor can, and should, do in their first 100 days in office.  
These efforts will need to include recruitment and retention for the workforce, effective relationships with county government and neighboring cities to solve common problems, working with stakeholders including to expand equitable economic development and housing for all income levels, presenting and passing proposals at Council and bringing in and properly stewarding the finances needed.  
Even within the first 100 days, a mayor can accomplish a great deal, including taking action to implement vitally needed services that already have Council authorization and thus can be brought about more quickly.
This is the first installment, listing of some of the first items that the next mayor can and should do to build a healthier Oakland, and which should be factors in our decision-making in the year ahead.
1.     Ensure implementation of the directive to prioritize stopping the flow of illegal guns and stopping gun violence, including implementing gun tracing, tracking and shutting down sources of illegal guns, and providing immediate response to shooting notifications.
2.     Remove blight and illegal dumping, implement pro-active removal of blight rather than waiting for complaints, incorporate blight removal throughout city efforts (rewards program, summer jobs program, etc).  Clear up backlog and establish a new normal that it is not okay to dump on Oakland.
3.     Provide healthier alternatives for homeless solutions, including safe parking/managed RV sites and sanitation/dump sites, to reduce public health risks. Partner with the County and others.
4.     Implement previously approved Council direction to switch to the use of civilians (rather than sworn police) to manage parades and special events.  Help ensure community and cultural events can go forward without excess costs undermining them. Strengthen the arts and economy and equity of event permitting system and ensure that expensive police resources are directed where they are needed, rather than wasted on watching parades.
5.     Implement previously approved public lands policy to ensure using public lands for public needs, with a priority for affordable housing.
6.     Make it easier for local residents and small businesses to grow, build and expand by providing coherent and simplified permitting and by implementing the Council-funded direction to provide evening and weekend hours and easy online access, to allow people to do projects like adding Accessory Dwelling Units (ADUs) and make other renovations and construction projects more timely.
7.     Work with stakeholders and community to advance effective and equitable revitalization of the large public properties at and around the Oakland Coliseum, including with housing for all income levels, jobs and business development, sports and entertainment, conventions and hotels.
8.     Work to speed the filling of vacancies in needed city staff positions and improve recruitment, retention and local hiring, to help provide vitally needed services, including for cleanup, parks upkeep, gun tracing, and other needs.
9.     Fire prevention and climate resiliency.  Our region is facing growing dangers from climate change and fire risk, and we must take action to reduce and remedy risk and protect our communities with a more resilient future, including by planning for and starting fire prevention and brush remediation activities earlier in the year, improving brush removal on public land as well as private, fully staffing the fire department and improving public infrastructure to protect cleaner air and reduce risks.
10.  Job training and pathways.  Some industries face challenges finding enough prepared workers while many in our community also need access to quality jobs.  Support and connect job training programs and quality job policies with growing sectors and ensure Oaklanders are prepared for vital openings in needed jobs while allowing our community to thrive.
My Park Moment Photo show opens in San Francisco Presidio
While a lot of establishments such as restaurants, movies, amusement parks and places where people gather were closed for the past 18 months because of COVID-19, one of the few places people were able to enjoy themselves was at parks.
While a lot of establishments such as restaurants, movies, amusement parks and places where people gather were closed for the past 18 months because of COVID-19, one of the few places people were able to enjoy themselves was at parks.
The New York based non-profit Photoville wanted to highlight this. With a partnership with the San Francisco Presidio Trust, Photoville presented the My Park Moment photo show, which celebrates people loving parks.  
The photo show features pictures of people at parks throughout the United States. The exhibit at the Presidio is spread out over 14 acres of new parkland with trails over tunnel tops creating scenic overlooks and picnic sites in a dramatic display of public art. It will be up from now until August of 2022.
"This exhibit is a celebration of community," said Michael Boland, chief Park Development and Visitor Engagement officer at Presidio Trust. "It shows how we as Americans can enjoy open spaces. How people can have fun, get fit, fall in love and do a lot of things outside at parks."
There were 7,000 photo submissions from professional photographers to people with cell phones, of which 400 were selected for the exhibit. The photos were picked by a committee of artists, photographers, and cultural critics from throughout the Bay Area. 
Outside of the 400 pictures used in the show, four photographers who submitted multiple works were given stipends and highlighted for their work as Visual Story Award winners.
One of the Visual Story Award winners was Sheilby Macena, an Oakland photographer, who has 12 pictures in the My Park Moment exhibit. Her work focuses on the citizens of Oakland and specifically, the merchants at Lake Merritt during the pandemic.
"My work comes from the exhibit Black Joy at Lake Merritt, which shows Black people at the Lake, during the pandemic, particularly along sellers' row," said Macena.
Sellers Row was a group of 20 to 50 vendors who set up along Grand Avenue and Lake Shore Drive in Oakland by Lake Merritt. This scene would often conflict with many of the new residents in the area.
"My pictures showed Black life and it was a great way to document folks. It was a fun time, but you knew it wasn't going to last," continued Macena.
It didn't. Nearby residents complained and media attention was brought to the Lake. Today, vendors at the Lake are required to have permits and there is a heavier police presence then what was taking place during the pandemic.
"The pandemic was hard on people and parks," continued Boland. "Parks for some were the only outlet for people."
Marissa Leshnov also had her work featured in the Presidio exhibit one Visual Story Award winners. Her work profiled the Oakland OMies, which showed a group of Black women practicing restorative yoga in the Presidio.
"These women came together as Black women, supporting each other and promoting wellness," said Leshnov. "It's important that people see themselves reflected in the art and I hope this brings people out to the Presidio to see the exhibit."
The San Francisco Post's coverage of local news in San Francisco County is supported by the Ethnic Media Sustainability Initiative, a program created by California Black Media and Ethnic Media Services to support community newspapers across California.
(In)Justice for All Film Festival International Scheduled August 12-21
Free Virtual Event to Feature Films, Poets, and Panel Discussions
Chicago's Trinity United Church of Christ, its Senior Pastor Rev. Dr. Otis Moss III, and The Next Movement (TNF) announce the 7th (In)Justice for All Film Festival (IFAFF), scheduled August 12-21. 
Because of the pandemic, this much-anticipated fest remains FREE of charge and will be virtual. This year, the IFAFF has partnered with Eventive, a well-established and respected virtual film distribution platform. 
The IFAFF brings audiences films that explore America's criminal justice system – police, courts, and corrections – and the industries that profit from this cauldron of human misery. Stories told include those of millions of people who are relegated to second-class citizenship under an unforgiving system. Stories also highlight how other countries are successfully addressing this issue, as well as showcasing best practices right here in America.  
The virtual 7th IFAFF International will screen feature-length documentaries, feature films, and topical shorts, all with themes centered on the epidemic of mass incarceration, the criminal (in)justice system, racism and white supremacy, gun violence, police brutality, unfair housing, immigration, social unrest, and other human rights violations.  
The film festival brings additional context to the films and their messages through a variety of panel conversations as well as the inclusion of spoken word segments. It also includes a film competition for new movies and "Justice Awards" for exceptional films that best demonstrate the challenges and tragedies of our broken justice systems.
While the focus is on new films that are submitted into the competition, a variety of older films highlighting the historical perspectives of today's challenges also are screened.  
The Next Movement (TNM) was born as a response to a 2010 visit and lecture by Professor Michelle Alexander, author of The New Jim Crow: Mass Incarceration in the Age of Colorblindness, held at Trinity United Church of Christ. TNM, organized as a committee of the Trinity United Church of Christ Prison Ministry, is comprised of people of all races, ages, and religions who view mass incarceration as the key human rights issue of our time, and who are committed to building the mass movement necessary to alleviate it. 
Through education, awareness and organizing individuals and organizations, TNM is dedicated to mobilizing the "people power" necessary to make the systemic changes required. 
The 7th IFAFF International will run over a 10-day period from August 12-21. Free tickets are available by visiting www.injusticeforallff.com or https://watch.eventive.org/injusticeforallff. 
In addition to screening films, this year's festival will include grand opening events: Spoken Word interludes featuring exciting Chicago poets, special guest speakers, panelists/panel discussions providing context to the many films to be featured over the 10 days (dealing with organizing, restorative justice, domestic violence, immigration, bail reform, racism, eviction, and, of course, mass incarceration); and closing ceremony/awards events. 
The magic of the festival derives from a committed, extensive group of partners who contribute their enthusiasm, relationships, and more to spread the news of the IFAFF International throughout Chicago and the nation. Independent film houses, universities, justice organizations, faith communities, and select media outlets comprise the bulk of IFAFF partners. 
Major 2021 IFAFF sponsors include Trinity United Church of Christ – Unashamed Media Group, Coalition to End Money Bond, and Euclid Avenue United Methodist Church. 
IFAFF website address – www.injusticeforallff.com
Eventive IFAFF website address – https://watch.eventive.org/injusticeforallff
Twitter & IG – @IFAFF
FB – @IFAFFInternational
Hashtag – #IFAFF2021