Noted Author John A. Williams Dead at 89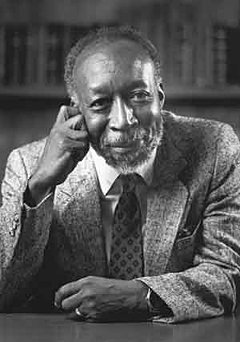 By Herb Boyd
Special to the NNPA
NEW YORK (NNPA) – "Mine was a simple hunger," John A. Williams said of his early desire to become a writer, "to know more than I then knew, and to set it down."  That simple hunger grew ravenous over the years and Williams wrote more than 20 books, including perhaps his most popular, The Man Who Cried I Am. Williams, 89, died July 3 in Paramus, N.J. according to a notice from Syracuse University, where he attended and earned degrees in English and journalism.
If he were not as well-known as many writers of the 1960s, he nevertheless had a loyal following among the radical intellectuals then – and now – and his essays, non-fiction books about Black history, journalism, and his novels were consistently rewarding and captured the essence of the flourishing Black arts movement.
He caused quite a stir when The Man Who Cried I Am was published. To promote the book, Williams excerpted the King Alfred Plan, a fictional plot by the CIA to eliminate Black people, made copies and placed them on the seats of subways in New York City. Readers were unaware of the ruse and believed the plan to be real.
Born in Jackson, Miss., Williams joined the Navy during World War II and used the GI Bill to complete his education at Syracuse.  After a series of menial jobs, he began to seriously pursue a career as a writer, thanks to the portable typewriter given to him by his mother-in-law. "That was my life jacket," he said.
Williams worked as public relations writer, copy editor, and hack journalism, as he called it, for numerous small publications and "girlie" magazines before landing assignments at Ebony, Jet, and, particularly Holiday magazine.  At one point, he even tried to publish his own newsletter but that floundered and he worked as a grocery clerk, in a foundry, and practically any kind of employment to take care of his family.
Much of this period of his life, in the 1940s and 1950s, is vividly recounted in a chapter he did for Men On Divorce – The Other Side of the Story.  "There had been occasions when my 'Homies' called me 'The Writer,' knifing deeply into the hunger I was only vaguely sure I had," he wrote.
With his writing zipping along at a promising clip, his novel Night Song, about a talented musician akin to Charlie Parker, was impressive enough to earn him a Prix de Rome from the American Academy of Arts and Letters in 1962, but the prize was retracted following an interview with the Academy. Williams charged that they discovered he was Black and thereby rejected him. Portions of this rejection would be fictionalized in his books, most poignantly in The Man Who Cried I Am (1967).
Other early fiction was in 1960 with One for New York or The Angry Ones; three years later, he made a bigger splash with Sissie (1963).  Each book depicted protagonists in battle with the system, struggling with racism and the obstacles nullifying their humanity.
In 1963, on the strength of his novels and articles, Holiday magazine sent him across America for him to gather his impressions of where the nation was on race relations in particular. This Is My Country, Too (1965) was the result. Beyond the Angry Black (1966), a collection of essays edited by Williams gave him further recognition on the literary scene.
Several historical writers and activists are thinly disguised in The Man Who Cried I Am, specifically Malcolm X, Richard Wright, James Baldwin, and Dr. Martin Luther King, Jr.  The main character is Max Reddick, whose life and activities mirrors those of the author.
Far less fictionalized but no less entertaining was Captain Blackman (1972) that basically chronicles American history and the prominent role of Blacks in the shaping of the nation.
In the 1980s, Williams added another genre to his creativity – playwright and librettist, though these attempts never really got the traction of his other pursuits.  One of his books, The Junior Bachelor Society (1976), was made into a television movie.
Nothing was spared by Williams when it came to injustice and indifference.  He targeted the publishing industry in !Click Song (1982), deftly sketching the travails of a struggling writer. This earned him he first of three American Book Awards.
His teaching career was almost as expansive as his writing, becoming a Regents' Lecturer at the University of California, Santa Barbara, 1972; Distinguished Professor of English, LaGuardia Community College, City University of New York, 1973-78; visiting professor, University of Hawaii, Honolulu, Summer 1974, Boston University, 1978-79, and New York University, 1986-87. Professor of English, 1979-90, Paul Robeson Professor of English, 1990-94, and since 1994 professor emeritus, Rutgers University, Newark, N.J. Bard Center Fellow, Bard College, 1994-95. Member of the Editorial Board, Audience, Boston, 1970-72; contributing editor, American Journal, New York, 1972.
He was busy looking for a job and did not attend his graduation ceremony from Syracuse, but he was there when they presented him with an honorary doctorate. Williams retired in 1994 as the Paul Robeson Distinguished Professor of English at Rutgers University.
He is survived by his wife, Lorrain; sons Gregory, Dennis, and Adam; four grandchildren, and two great-grandchildren. And his sons have expressed that same hunger he had behind that portable typewriter.
The Black Press: Our Trusted Messenger
Our Black newspapers are now celebrating 194 years of being the keeper of the flame of liberty and the source of information in "our" struggle for freedom and equality.
Sometimes it's necessary to be reminded who we are and who our friends are.  It's also important to remember from whence we have come. 
Such is the case this week with the Black Press. Our Black newspapers are now celebrating 194 years of being the keeper of the flame of liberty and the source of information in "our" struggle for freedom and equality.
With the advent of the recent pandemic and the visible disparity of Blacks dying at greater numbers than others, getting fewer vaccines, working in the highest risk occupations and death at the hands of law enforcement, our need for a "trusted" source of information is greater than social media, which has become an alternative for many.
 At the same time, the interest in reaching our communities has increased on all levels. The question has become "who is in touch with the Black community" as injustice, murder and social disparity continues to grow among Blacks. 
The NAACP and the Urban League gave the impression that they were in touch with the Black community. But the reality is neither organization has ever been in touch with the Black community without the Black Press.  It is Black newspapers and not CNN, ABC, NBC or CBS that carries the articles and commentaries of these organizations to the Black community. 
Yet, neither of these organizations ever mentions the Black Press when taking both credit and dollars for outreach to the Black community.
The African American and Black communities of America should not be duped into believing that social media has become a substitute for the Black Press. The Black Press is now both print and electronic, it's a newswire service as provided by the National Newspaper Publishers Association (NNPA), providing coverage of both news here in America and around the world.
 It is the Black Press that has been the "Trusted Messenger" to our communities for 194 years, and that says a lot. Our newspapers are the rear guard, the battle ground against the efforts to resegregate America and return to "Jim Crow" racism.
As we celebrate Juneteenth, let us remember that we are not only free but capable of defending and determining our futures if we get serious. Let's remember how we got here, on the backs of those like the Black Press who bought us thus far; let us not forget in the words of James Weldon Johnson: that " we have come over a way that with tears has been watered, treading our path through the blood of the slaughtered." We are still being slaughtered today by others as well as each other.
Let's remember who is truly telling our story and our obligation to keep and support that effort. Pick up a Black newspaper and get involved. You owe that and more to keeping the Juneteenth principle of freedom alive today.
Editor-in-Chief note:  The Post News Group consists of nine newspapers:  Oakland, South County, San Francisco, Vallejo, Marin, Stockton, Richmond, Berkeley Tri-City and El Mundo.  We are also online at postnewsgroup.com.
Juneteenth: Our Independence Day
Also known as Emancipation Day or Freedom Day, it commemorates the end of slavery, the seminal event in Black history.
June 19, or Juneteenth, is independence day for many Americans of African descent.
Also known as Emancipation Day or Freedom Day, it commemorates the end of slavery, the seminal event in Black history.
President Abraham Lincoln's Emancipation Proclamation took effect on Jan. 1, 1863, but was read to slaves in Galveston, Texas, on June 19, 1865, more than two years later.
There are several different accounts of why the news of freedom took so long to arrive.
One story has it that slaves were intentionally kept ignorant about their freedom in order to allow crops to continue being harvested. Another has a messenger traveling by mule to deliver the news, and it simply took more than two years to arrive from Washington, D.C., to Texas. Yet another story has the messenger being murdered before he could deliver the message.
No matter the origin of Juneteenth, the end of slavery is definitely worth celebrating. But while much has happened in the 158 years since slavery officially ended, its legacies still remain in the form of disparate salaries, educational levels and incarceration rates.
Juneteenth, which is now observed in 48 states (North Dakota and Hawaii do not observe)  and the District of Columbia, is a time to take stock of our progress — and of the work that remains.
Last year, during the pandemic our current vice president and former senator, Kamala Harris, said:  "[m]y message on this Juneteenth:  may we honor those who suffered, died and survived the crushing reality of slavery by looking to the future."
Twelve years ago President Barack Obama said: "African Americans helped to build our nation brick by brick and have contributed to her growth in every way, even when rights and liberties were denied to them."
We're still building it.
In 2021, as our state opens up post-pandemic and we deal with racial reckoning as we never have before  #BlackLivesMatter is becoming a reality. 
This year is truly our Independence Day.
Happy Juneteenth.
Turner Family Patriarch Turns 100, Passes the Torch
A huge fan of the L.A. Dodgers, Turner was invited to try out for the Dodgers Minor System in the early 1950s and the ambidextrous Turner once pitched a double header left-handed in the first game and right-handed in the second.
A poem written for Douglas "Buster" Turner's 100th birthday is entitled "My Eyes Have Seen a Lot of Things." After 100 years on Earth, that is an understatement. Turner's life began on May 22, 1921, in Ansley, La., as the son of Nada and John Turner. 
Turner had a full childhood surrounded by his 13 siblings in Morton, Miss., where they were raised. Turner's parents instilled in their children a sense of honor and pride by teaching them to be accountable and take responsibility for their actions while still giving them the autonomy they needed to become their own people. 
And become his own person, he did!
A young Turner served in the United States Army, completing a tour of duty in Nazi Germany during World War II. After an honorable discharge from the military, Turner utilized the benefits being a veteran offered him through the GI Bill. 
Turner married Coreene in 1940 and they took up a nomadic lifestyle in the Deep South during the Jim Crow era. They adjusted and adapted as they traveled along what his son, Eddie Turner, refers to as the 'Chitlin Circuit,' barnstorming with various Negro League Baseball teams through Mississippi, Texas, Alabama, Louisiana, Arkansas, and Georgia. Turner moved to Oakland in 1949 with the rest of the family joining him about a year later. 
A huge fan of the L.A. Dodgers, Turner was invited to try out for the Dodgers Minor System in the early 1950s and the ambidextrous Turner once pitched a double header left-handed in the first game and right-handed in the second.
The time spent on the road with Coreene, who passed away in 2015, created a bond that lasted 75 years and produced seven children. The Turners would raise Albertine, Eddie, Fred, Johnny, Michael, Mary, and Sherrie with the same family values that Turner had been raised with. 
Their door was always open to the neighborhood children and the family never met a stranger. Douglas Turner's legacy is an open, helping hand, one of caring and sharing. 
To provide for his family, both close and extended, Turner became a union journeyman machinist. Turner employed many workers at his Mohawk Gas Station in Oakland, Calif. before the brand changed hands. When his budget kept him from buying a much needed truck, Turner's innovation and imagination led him to repurpose a car into a truck, well before the El Camino made its debut. 
As Mr. Turner turns 100 years old and dementia confuses time and memories for him; he often revisits the past. His son becomes his brother, and he is once again a young man. 
Though the memories are fading for him, the stories of his epic journeys will not end: Turner's children will carry on the Turner legacy of accountability, responsibility, integrity, and autonomy. The Turner family is the product of all the hard work that Turner did in making a strong family unit filled with the wonderful tales they saw through their father's eyes.